Jim Rash, Charlotte NC-native and UNC-CH alum -- best known to the world as Dean Pelton on Community -- has been exercising other talents the last few years. He and his co-writer Nat Faxon won an Oscar for their screenplay of The Descendants (with Alexander Payne) and the pair have created a great, light, summertime coming-of-age comedy, The Way, Way Back.
An interesting nugget from this article about the film is that the opening scene was drawn from a conversation the 14-year-old Rash had with his own step-father. Which is pretty appalling all on its own. Another appalling fact is that this pleasant, funny,  innocuous screenplay sat on a desk for years because, though it was admired, no one wanted to invest the money to film it.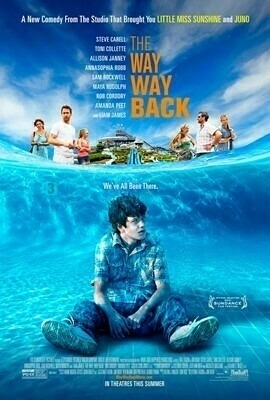 The movie follows the adventures of the sullen Duncan as his mother, her boyfriend, and his daughter occupy a summer cottage near a Massachusetts beach area, in an attempt to foster a "family holiday" vibe. The boy's awakening to his own potential is charmingly done, and I liked that the almost-romance with the girl next door was part of the story but not the whole story.
The all-star cast members -- Toni Collette, Steve Carell, Amanda Peet, Maya Rudolph -- show relatively little of what they're capable of (except for Jim Rash, who gives himself a colorful cameo). The movie is largely driven by the other characters' reactions to Liam James' brooding Duncan or they're behaving in those baffling ways lost adults do when they want to torture their sensitive offspring. James walks around like a slumping caveman; his knuckles would drag the ground if his arms were long enough. So when he starts to look around and participate in the world around him, his delight and excitement is warming to watch.
That said, two performances really got my attention: Allison Janney's brash and boozy next-door neighbor and Sam Rockwell as the fast-talking, mouthy owner of the Water Wizz amusement park where Duncan finds a haven. Rockwell's character is a lazy slacker, but he's accepting of all the misfits who drift through the water park. His needling, cajoling, and ribbing of Duncan bring the boy out of his shell; his loyalty and support of Duncan are quietly done and deliver exactly what I want in a feel-good summertime movie.
Article: Oscar-winning Charlotte native plunges into directing with 'The Way Way Back' | Movie News & Reviews | NewsObserver.com.