When Tom Waits was inducted into the Rock and Roll Hall of Fame, he said, "We all love music and we want music to love us, too." It's a thought that haunted me after watching the glorious documentary 20 Feet From Stardom.
The movie starts on a sunny note as a trio of backup singers reunite after not having seen each other for decades. The tracks of songs they sang are played underneath, and you notice the names of different girl groups appear for each song. Their voices were everywhere, it seems, but they remained anonymous.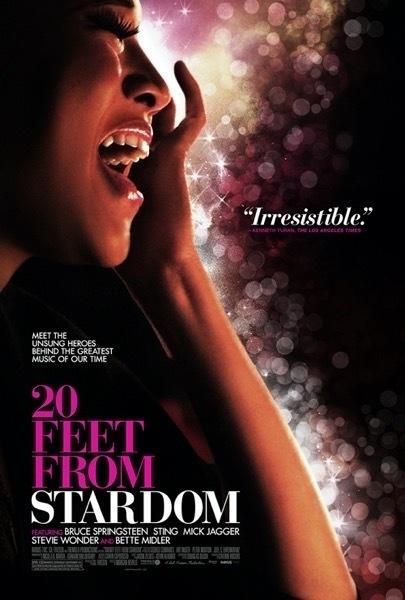 "20 Feet" tracks the fortunes of several singers from the first generation of girl backup singers. The first half of the film is fun, vibrant, and star-studded: the girls sing backup for the big names of rock and roll, with occasional solo duties on the records or duets with the stars. Mick Jagger, Bruce Springsteen, Stevie Wonder, and Sting contribute both raves for the singers who work with them and grounded, thoughtful perspectives on the life of a backup singer and why stardom sometimes eludes them.
Because, make no mistake, these singers gave everything they had to music and -- not without reason -- they'd like something back. As the girls grow into women, and the '60s become the '70s and the '80s, their attempts to crack the mainstream become more and more futile and their feelings about music turn bitter. The movie becomes heartbreaking by slow degrees. There's a particularly disquieting moment when the camera pans down a stack of solo albums by backup singers who saw these records as their ticket to mainstream success -- none of which were successful.
Did they not work hard enough? If you love something enough that you give up your life and youth for it, isn't it supposed to pay off? Where's the line between persistence and banging your head against a wall? Or is it also, as Sting and Springsteen say, a matter of luck, circumstance, and a thousand other variables that no one can control? The up-and-coming singer Judith Hill, who was all set to break out into superstardom, suffers with a tragic setback that she could not have planned for or even imagined. The movie follows her as she continues trying to execute her solo career, while also accepting backup jobs when she has to or wants to.
One of the profiled singers, Lisa Fischer, is at peace with her life as a backup singer. She knows the price big stars pay for their stardom, and she's happy that she never paid it. The occasional moments of her singing solo showcase a deep, jazzy voice; the respect that the other artists in the movie have for her and her voice are strong and stirring. She may not be out front, but she's never taken for granted.
The movie, however, belongs to two women: Merry Clayton, a powerhouse singer with a "kill spirit" who worked single-mindedly to become a star and who still feels the frustration that her dream eluded her, and Darlene Love, whose voice was used in dozens of hits produced by Phil Spector, who cruelly exploited her talent. Darlene's story has a happy ending, of sorts, but I could not shake the story of her years away from music and how narrowly she missed the chance to be welcomed back into its arms.