As part of my downsizing, I've looked at the shelves of graphic novels and wondered how I could quickly create a list of them. In case I want to sell them or even give them away, I'd like to be able to hand over a list of what I have so people know what they're getting, or so a buyer can tell me what they're most interested in.
Of course, I thought, "There's an app for that."
I'm not sure why I spent hours today searching for and trying out apps to scan a book or DVD's barcode to generate a list quickly and easily. But my intuition said to do it, so I did.
All I wanted was…
All I wanted was an app that I could use to scan the barcodes of books and DVDs, match those barcodes to book and DVD names, and then export the list. And ideally, they'd be easy to use without me puzzling over settings or help pages. (No fear there: only one or two of these apps even had support pages or FAQs, however skimpy.)
My first path was incorrect: I searched for iOS-based barcode scanners and this created a whole morning and afternoon spent reading app reviews, downloading and testing a few apps, and generally just being displeased with the whole exercise. These tend to be consumer-level price-finding apps. The apps tend to be adware, or buggy, or just generally difficult to work with.
After stepping away for a bit, I hit on the second path: look for book cataloging apps, or cataloging apps that could do books and DVDs – and why not CDs, while I'm at it.
After more Googling, I found Libib, which was the answer to my dreams.
Libib did all I wanted…
Libib has two components: 1) a mobile app that can scan barcodes and 2) a website where those entries can be tagged, metadata entered or edited, etc. For personal use, the app and site are free at Standard level; if you're a small library, there is a Pro level with more admin features.
Libib can show you the entire contents of all the libraries you have created, or only the library you select. Libib offers four types of libraries you can create: Books, Movies, Video Games, and Music. I assume that each library type is associated with its own set of catalogs or custom searches, which improves the speed of the barcode matching.
On the web site, I created two libraries: Graphic Novels and DVDs. I downloaded and logged in to the iOS app on my iPhone. And then I picked a few DVDs for testing.
My tests worked great. The iOS app read barcodes and returned product info as fast as the camera took the picture – and MUCH faster than any of the barcode-scanning apps. Refreshing the web site showed those entries on my DVDs Library page. (That may not sound like a big deal to you, but so many of the apps I tried today lacked such basic competence in design and function that I almost cried with joy to find something simple that simply WORKED AS EXPECTED.)
I eventually found the Export capability: from your account page, select Settings, select the Libraries tab, select Export Library (.csv), and then the library you want to export. I was impressed by the amount of metadata included with the DVDs; and it's probably possible to customize the metadata further.
What's to love?
What I love about Libib – the site and the app – is the speed, the cleanness of design, proper Support pages so I can troubleshoot problems myself, and its own general soundness and sanity.
There are social functions that I don't care at all about and don't see myself using, but that's fine. Libib does what I want, as I expect it to, and I am now – at long last – looking forward to cleaning out those shelves of graphic novels.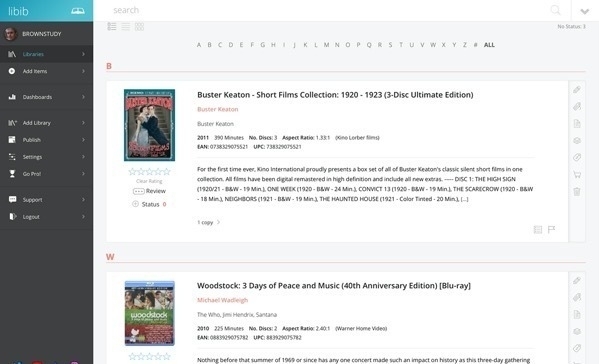 _One of the nice touches of the Libib interface is the ability to view your library's items in a plain list view, as large icons, or a hybrid view, as shown here, with full description and metadata on the DVDs._