"Hell is where time has stopped"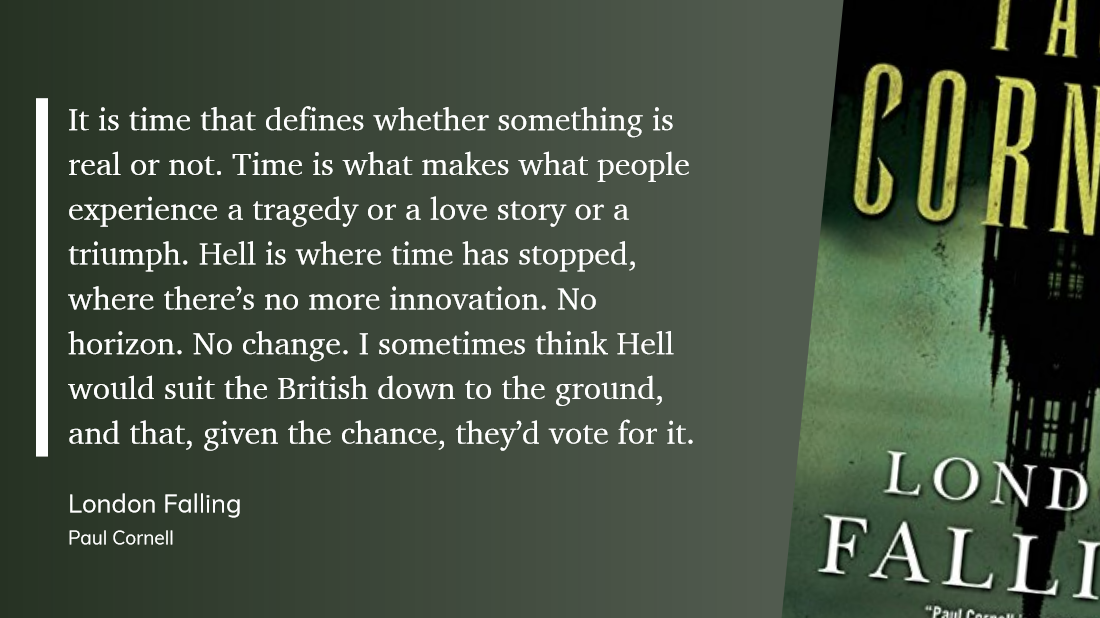 She opened her eyes. She was on her knees in a sea of weeds: in love with every drop and twig of the universe. Born again, probably not for the last time.
From the novel Cobalt Blue by Peggy Payne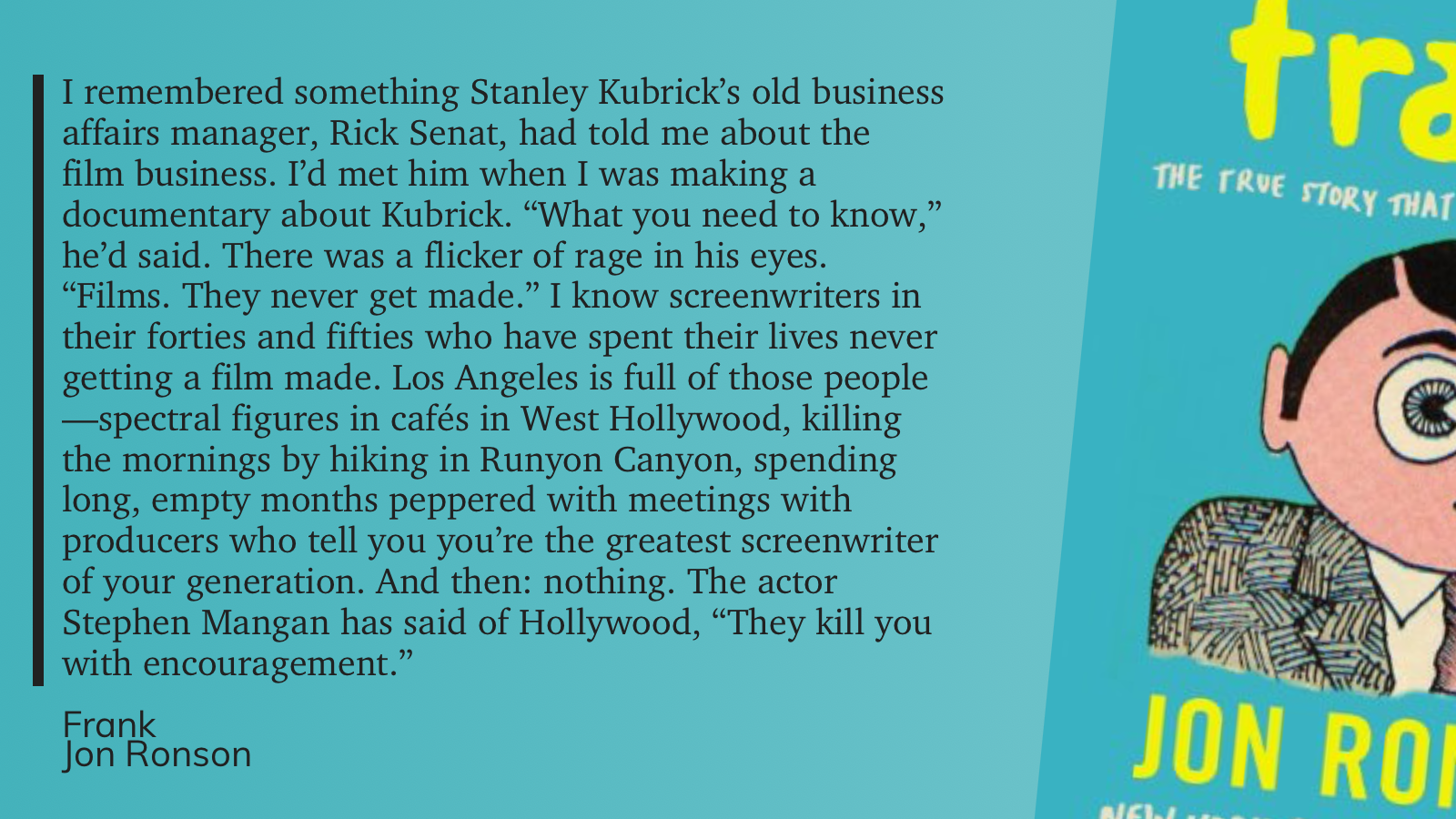 A passage from the actor Terence Stamp's memoir, Rare Stamps. There are the usual ups and downs of an actor's life – from being celebrated when he first appeared onscreen, he was broke by 1984 – funny backstage moments, and lots of soul-searching as he travels to India trying to find the answer "out there." The answers he finds seem to be the answers that are always there.
What can I tell you that I haven't already told you? Only the essence of what artists finer than myself shared with me.
Engage in what life presents. It has its own reasons. Maybe it isn't what you've hoped for, but hope is like honey. Don't indulge in it. Just eat it when it's on your spoon.
Be present and notice when you're not. This being present and knowing when you're present usually has its roots in a heightened state of work. Allow it to flow over into your life—anytime. It is the cog that only appears to turn; yet its radiant presence is the foundation for all the atoms in what we call our body.
Aim high; life will support you: It is resonating in your own heart. Have faith in it; be courageous.
Disregard your doubtful thoughts. As William Shakespeare wrote, "Our doubts are traitors, and make us lose the good we oft might win, by fearing to attempt." Let doubts pass like clouds in the sky.
The Grasmere and Alfoxden Journals
Dorothy Wordsworth and Pamela Woof
&c—The old woman was very happy to see us & we were so in the pleasure we gave. She was an affecting picture of Patient disappointment suffering under no particular affliction.
The Relationship Handbook by George Pransky
Emotions are never a statement about the world around us. They are always a statement about our momentary perspective on life. Emotions are a quality-control device that measures the quality of our thinking. They tell us whether or not we are viewing life dispassionately—and how sound our judgment is. When we experience black emotions like anger and despair, we know that we are taking things too personally and have lost touch with the big picture. When our feelings are positive and light we know we are viewing life with more wisdom and perspective. (Location 883)
---
The Underground Guide to Success
The Theory of Action as defined by me states that if something is moving, you are getting closer to your goals. This means your mouth is moving while you call prospective employers or clients, your feet are moving as you walk to an appointment you set up, your eyes are moving as you read a book to improve your skills, your fingers are moving as they type up a business plan you will present to investors to attract new capital to a business, your feet are moving as you exercise to lose weight. The corollary to The Theory of Action is equally as important. If something isn't moving, you probably are not getting closer to your goals. (Location 3,398)
---
The Arnold Bennett Calendar by Arnold Bennett
A talent never persuades or encourages the owner of it; it drives him with a whip. (Location 1,080)
---
An Ignorant Highbrow via openlettersmonthly.com
So is that what architectural sophistication means – knowing what buildings you're supposed to like and not like, according to people who know a lot more about the subject than you ever will? I hope not. Architecture merits close study, even if amateurs like me sometimes get it wrong and miss the finer points, for the reasons that all culture merits close study: to take nothing for granted, to resist complacency, to notice things, to be more awake, to be more alive. Close study of skateboarding may well provide the same advantages; I really couldn't say. Maybe what matters as much as the things we love is the quality of attention we bring to the things we love.
---
How To Write The Great American Novel by Jim Behrle
And the only thing that's interesting about most writers is just the tap tap tap of keys. Otherwise they're just as boring as the rest of us.
The Relationship Handbook by George Pransky
Michael. We wouldn't have lasted ten years if our marriage hadn't turned around. We went to a marriage counselor who knew what he was doing. He helped us to straighten things out. Interviewer. What did he tell you? Michael. He suggested we stop trying to analyze and "work on" the relationship and concentrate on enjoying each other. (Location 2,294)
A Weapon for Readers by Tim Parks
But if writers are to entice us into their vision, let us make them work for it. Let us resist enchantment for a while, or at least for long enough to have some idea of what we are being drawn into. For the mindless, passive acceptance of other people's representations of the world can only enchain us and hamper our personal growth, hamper the possibility of positive action. Sometimes it seems the whole of society languishes in the stupor of the fictions it has swallowed. Wasn't this what Cervantes was complaining about when he began Don Quixote? Better to read a poor book with alert resistance, than devour a good one in mindless adoration. (Location 77)
But Bennett's insight is that zoning out is tiring, not relaxing; half-hearted semi-focusing causes life to feel like an exhausting blur. (Location 689)
Complete Works of Samuel Butler by Samuel Butler
My days run through me as water through a sieve. (Location 86,728)
Seduced by Consciousness by Jack Pransky
I realized being free does not come from being aware of our story; it comes from being aware of our creation of our story. (Location 4,487)
These are the highlighted Kindle passages sent to me today by Readwise.
---
How to Find Fulfilling Work by Roman Krznaric
The second question threading its way through this book is: how do we go about changing career and making the best possible decisions along the way? Although I offer no blueprint strategy that will work for everyone, there are three steps we ought to take. A starting point is to understand the sources of our confusions and fears about leaving our old jobs behind us and embarking on a new career. The next step is to reject the myth that there is a single, perfect job out there waiting for us to discover it, and instead identify our 'multiple selves' – a range of potential careers that might suit the different sides of our character. Finally, we have to turn the standard model of career change on its head: rather than meticulously planning then taking action, we should act first and reflect later, doing experimental projects that test-run our various selves in the real world. Ever thought of treating yourself to a 'radical sabbatical'? (Location 142)
---
Greg Waldmann Reviews the Musical Career of Anthony Burgess (couldn't find a link!)
One my favorite passages from his writings is at the beginning of Little Wilson and Big God, where he sits in New York's Plaza Hotel in 1985, watching people go about their lives and thinking back on his own. "One goes on writing," he says, "partly because it is the only available way of earning a living. It is a hard way and highly competitive… But one pushes on because one has to pay bills. There is also a privier reason for pushing on, and that is the hopeless hope that some day that intractable enemy language will yield to the struggle to control it… When I hear a journalist like Malcolm Muggeridge praising God because he has mastered the craft of writing, I feel a powerful nausea. It is not a thing to be said. Mastery never comes, and one serves a lifelong apprenticeship. The writer cannot retire from the battle; he dies fighting." (Location 184)
---
Nuggets of Wisdom by Elsie Spittle
CONTINUE TO "MANUFACTURE" a healthy environment and appreciate the results, without hoping for more. Hoping for more gets in the way of appreciating what you have now. (Location 703)
---
The Arnold Bennett Calendar by Arnold Bennett
In the cultivation of the mind one of the most important factors is precisely the feeling of strain, of difficulty, of a task which one part of you is anxious to achieve and another part of you is anxious to shirk. (Location 963)
---
The Untethered Soul by Michael A. Singer
Ultimately, if you protect yourself perfectly, you will never grow. All your habits and idiosyncrasies will stay the same. Life becomes stagnant when people protect their stored issues. (Location 889)
---
Reinvent Yourself by James Altucher
Habits. It's the 5x5 rule. You are not just the average of the five people around you. You're the average of the five habits you do, the things you eat, the ideas you have, the content you consume, etc.
To make two paintings, this much of a plan had come to her quickly, her first day in New Orleans, and even before. It hadn't seemed serious or plausible then, had been simply too daunting. But now she knew where to find in herself what she needed to be able to do it. She'd started to catch on at the fountain at Pat O'Brien's: that she, like everybody else, was both a reservoir and an outpouring. That she'd been pretty stingy all these years about what she'd poured out. (Location 4,213)
The Arnold Bennett Calendar by Arnold Bennett
The great convenience of masterpieces is that they are so astonishingly lucid. (Location 949)
The Trouble With Bright Girls | Psychology Today
How often have you found yourself avoiding challenges and playing it safe, sticking to goals you knew would be easy for you to reach? Are there things you decided long ago that you could never be good at? Skills you believed you would never possess? If the list is a long one, you were probably one of the bright kids – and your belief that you are "stuck" being exactly as you are has done more to determine the course of your life than you probably ever imagined. Which would be fine, if your abilities were innate and unchangeable. Only they're not. (Location 1,923)
Gopen's Reader Expectation Approach to the English Language by George D. Gopen
To see the stories readers perceive in your paragraph, circle all the grammatical subjects and read them in progression. (Location 353)
How to Find Fulfilling Work by Roman Krznaric
The art of career change requires turning the conventional approach on its head. We should wean ourselves off the rational-planning mentality and replace it with a philosophy of 'act first, reflect later'. Ruminating in an armchair or poring through files at a career centre is not what we need. We must enter a more playful and experimental way of being, where we do then think, not think then do. (Location 836)
Art isn't what you can get away with … Art is what gets away with you. Every encounter with a work of art is an elopement. The seduction of the self, the abandonment of the self to a different kind of experience, is what art offers. Every renewal of the artistic method and process is an attempt to wrestle art out of the marriage and into the love-affair. By which I mean the Keep Out signs of convention, respectability, familiarity, jargon. The high priest cult of 'art' is a lie about what art is. Art is feeling and experience and excitement before it hardens into meaning.
Jeanette Winterson
The Secret Diary of Hendrik Groen, Hendrik Groen, Hester Velmans (Translator)
After a while, the phrase old-age home began making people feel uneasy. It was replaced with retirement home and then assisted-living facility. The nursing home became a "care center." And in the latest version, it seems I am enrolled in a "market-oriented health-services organization providing individually tailored care." I now understand why health-care costs keep skyrocketing.
Uncle Terrance | Eruditorum Press
There are countless figures who made Doctor Who what it is. Indeed, there're countless figures who made it great. But Terrance Dicks is the man who made it a show that thrills and vexes me enough to pen a million words analyzing it and still not feel done with it. He made it at once inscrutable and approachable, simple and fun yet endlessly thorny. He's not why Doctor Who is good. But he is why generations love it, and why generations more will. There will never be anyone like him again on the program. There never could be. People like him don't happen twice. They scarcely happen once. Thank the gods they did.
Life is the art of drawing sufficient conclusions from insufficient premises.
Samuel Butler
So I left non-duality and left Facebook and that left me a good deal of free time. Time does not exist except to people who are waiting for things to be over and then it goes s-l-o-w-l-y.
Source: Vicki Woodyard
Time passes slowly at the old folks home in Amsterdam.
If you don't have anything special to do all day long, a molehill can turn into a mountain. A person's time must be filled with something; one's attention has to have a focus. Nasty character traits need an outlet. In contrast to what you'd expect, narrow-mindedness increases and tolerance lessens with the onset of old age. "Old and wise" is the exception rather than the rule.
The Secret Diary of Hendrik Groen by Hendrik Groen, Hester Velmans (Translator) (Amazon US)
Hendrik Groen's diary is Adrian Mole for the grey generation.
Wonderful summing-up final paragraph from Stefany Anne Golberg's essay on The Long Lost Friend
There's a mood of disorientation and longing in The Long Lost Friend 's title that strikes a different note than the confident claims to be found inside. Maybe this is the book's "Long-Hidden" message, its essence, and the essence of all the self-help books that would follow it. The self-help book, via The Long Lost Friend, is an appeal to the American still wandering in the wilderness, curious about everything, needing nothing, wanting it all but not knowing how to get it, believing in the magic of utility, and the utility of magic.
It does a man good to turn himself inside out once in a while: to sort of turn the tables on himself: to look at himself through other eyes—especially skeptical eyes, if he can. It takes a good deal of resolution to do it: yet it should be done—no one is safe until he can give himself such a drubbing: until he can shock himself out of his complacency. Think how we go on believing in ourselves—which in the main is all right (what could we ever do if we didn't believe in ourselves?)—a colossal self-satisfaction, which is worse for a man than being a damned scoundrel.
See also
Walt Whitman tells a story:
A woman I knew once asked a man to give her a child: she was greatly in love with him: it was not done: he did not care that much for her: he said to her, "all children should be love children": then he thought she might repent if the thing was done: after his refusal she said: "Now I suppose you despise me." He said: "Despise you? no: I respect you: I feel that you have conferred the highest honor on me." Years after, he met her again. She was married—had children. But she said to him: "I still love my dream-child best."
From Robin Sloan's latest newsletter:
Beware, anytime you hear anybody talking about reading novels as self-improvement – because they "increase empathy" or something like that. A close cousin is when people say you should read science fiction because it "helps you imagine the future."
Here is my proposed alternative: read novels because there are novels…
It's unfortunately very common in the San Francisco of 2019, this quest for a deeper "because" that finds its foundation in self-improvement. Resist.
My heart was broken recently and I keep the pieces on the back step in a bucket. A heart can mend but unlike the liver it cannot regenerate. A heart mends but the break line is always visible. Humans are not axolotels; axolotels grow new limbs. A broken heart will mend in time, but one of the contradictions of being human is that we have so little time for the mending we must do. It takes years to know anything, years to achieve anything, years to learn how to love, years to learn how to let love go when it has worn out, years to find that loneliness is the name for the intense secret you can't share. Years to share what you can share. Years to be hurt. Years to heal.
From The Public Domain Review:
Though Nikolaus Pevsner wrote that the nineteenth century "forgot about Soane", it was ironically through his funereal-architecture that his spirit was revived. The ruined classical architecture of death had become one of the utilitarian icons of the twentieth century. These boxes are now relics on the streets, preserved by English Heritage and frequented by the occasional tourist … Like their architectural inspiration, these boxes now act as a memorial to a form of life now passed.
I decided at one point in my life that I never wanted to be anything that would not allow me to be anything else I wanted to be … I ended up being nothing that I can currently identify, which I suppose means I got my wish.
from Laura Warholic by Alexander Theroux
Uncertain Terms | The Smart Set
The British technology journalist Ian Betteridge is credited with the adage "Any headline that ends in a question mark can be answered by the word no." I want to make a similar claim: Any question at the end of an essay can be answered with the word yes. (Same goes, most likely, for poems, short stories, etc.) The question is a kind of weasel syntax that lets the author have it both ways: make a gesture toward profundity without having to commit to it.
Once you grasp this, the modern mantra of "no regrets" begins to look not courageous but fear-based: a desperate, panicky effort to avoid future sadness. By contrast, and paradoxically, amor fati offers a more full-throated way of overcoming regret: by accepting it. It's not a matter of making bold choices "before it's too late", but rather of seeing that it's already too late, and always has been. This is deeply liberating. You only live once. Why waste it trying to have no regrets?